Compassionate Home Healthcare
Inspired by her great-aunt who was diagnosed with Alzheimer's and Dementia, JoBeth Foley opened In-Home Angels LLC in February of 2022. As a family-operated non-medical healthcare agency, In-Home Angels offers compassionate care for the elderly, cancer patients, and adults with disabilities through customized care plans run by trained and insured caregivers. In-Home Angels also provides care at group homes and schools. JoBeth's caregivers are certified in Alzheimer's and Dementia care, CPR, and First Aid Certified.


Cancer Battle
JoBeth Foley has a deep understanding of the feeling of struggling. She explains, "In 2018, I personally experienced the challenges of battling cancer and going through a difficult journey." JoBeth acknowledges the pivotal role her sister played in her recovery, emphasizing the importance of having a trustworthy caregiver by her side. JoBeth said she wanted to change the home healthcare industry by providing quality care and ensuring she would hire people with compassion and appreciation to work for her business.
Starting from the Scratch
Jo-Beth was paired with CTSBDC Advisor Valerian Gomez who helped her with her general management, funding, and logistics of laws and regulations. "I have learned a lot about funding, and I have learned a lot about the logistics of laws and regulations. I have also learned how to manage staff, "says Jo-Beth.
She also needed help with cash flow. With Val's assistance, In-Home Angels secured $135,000 in funding.
Jo-Beth appreciates Val's advice and guidance and she's beyond happy with everything and his dedication. "I admire so much about him and appreciate everything he has done to help us get to where we are today. Thank you for all that you do", comments Jo-Beth.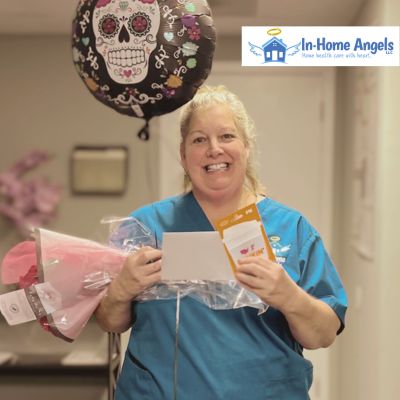 Promising Future
In-Home Angels is doing exceptionally well and will continue to strive to succeed. JoBeth experienced significant growth this year and she is positioned to double her revenue again this year. The current number of active employees (caregivers working with clients and internal administrative staff) is now up to 46.
JoBeth is happy to share that she recently opened a new facility with a training area. The new building is now the headquarters of In-Home Angels in Milford.
Avoiding Getting Lost in the Process
JoBeth recommends that first-time business owners use the CTSBDC as a resource. "This is a major learning curve for me and without the help from Val and the SBDC, I would have made a lot more mistakes along the way. It is a huge relief for me to know that I have support from the SBDC to guide me to success. I would have been lost without them", adds JoBeth.
Congratulations JoBeth! We are proud to support your mission to provide care to those in need!